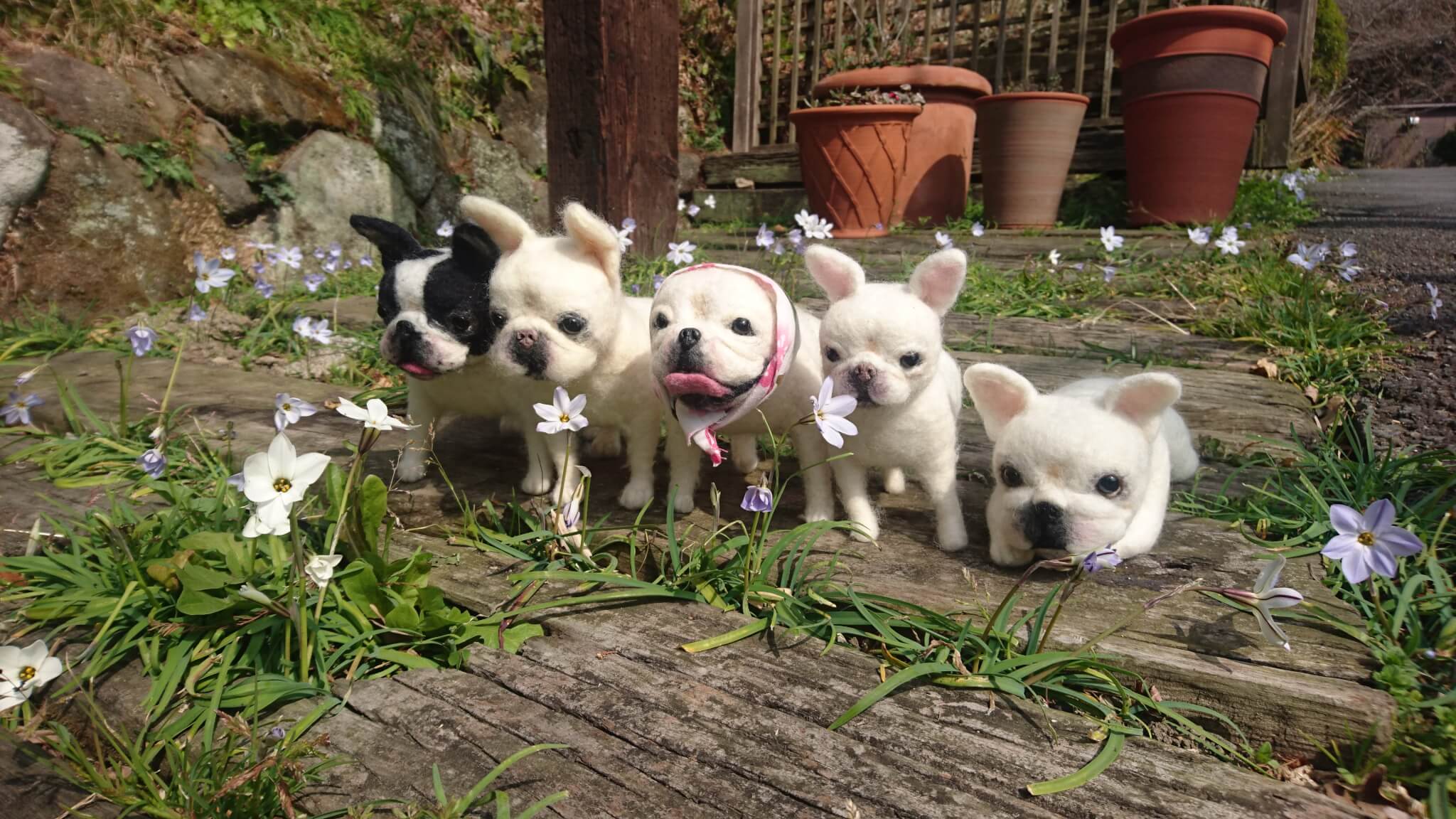 The Fluffy Doll's Fun Travel with Air Pet
公開日:2017/04/27 最終更新日:2017/06/23
Spring time is coming and I can find the colors of spring and flowers every day. I cannot smell the onset of spring, so I depend on the powers of allergy medicine. It's nice to finally feel spring and I want to go out ♪
This season is not pleasant because pets begin to change color and have various scents. Right? I admire the people who live with a pet while having strict condo policies and a busy work schedule. I live in an apartment forbidding pets and I am also busy with work. Many people think that it is difficult to welcome pets into their lives because of their condo policies or work schedule. I am also one of those people. I have a young child, but I dream of the day that I can finally welcome a pet into my home. I dream about looking for a puppy in the spring. I now introduce to the people who dream of having a pet, the creator of "Fun Handmade Air Pet," Yumi.
It feels like spring is arriving.
I am excited by the look of my dogs as well. Actually, these are the dolls Yumi creates. I am surprised by the way the dog's facial expressions are reproduced. The appearance and even the gaze of the eyes are quite natural.
According to Yumi, you cannot buy the pets even if you wanted to. While patiently waiting for the day she can welcome a real pet, Yumi created the fluffy pets by hand. I had the opportunity to speak to Yumi, the creator of the famous pets that exhibit a mysterious charm.
How long does it take you to make these pets?
 Most of my work ranges from L to LL sizes. For example, french bulldogs and beagles are short-haired and take approximately 50 hours to finish. On the contrary, poodles, pekinese, and cats are long-haired, so they take closer to 70 hours to complete. Throughout the creating process, I have a little to to worry and correct problems.
70 hours! That's surprising! No wonder why the facial expressions of the pets' look so natural.
My teacher told me they have never met a person who was so meticulous. I was worried that I was taking too much time, but I was given a piece of mind when I was told that they'd never seen the hair transplanted so beautifully and realistically (laughs).
Why did you start making the pets?
 I had the chance to start doing this when my youngest child graduated from college, and I did not have to be as much of a parent. I had more time to myself (laugh). I really wanted to start working with felt and wool, so I began going to a place close to my home to start working. It has been about a year and eight months since I have started.
How many have you made?
 Currently, there are about 60 in my home. I have given 5 to acquaintances, so I have made about 65 in total.
65 pets.. 70 hours per each pet.. That is a lot of time spent making these fluffy dolls. She aims to make the pets look realistic by making them "cute and meticulous". The facial expressions and the eyes have to be especially conniving. It is truly amazing how much love and care Yumi puts into making the dolls. Yumi really enjoy's former figure skater, Johnny Weir's, Twitter.
Got asked the most uncommon things I travel with. 1. Magic Erasers 2. Bottle of @Windex 3. Mini replica of Тёма pic.twitter.com/U5YE2ENzw9

— Johnny Weir (@JohnnyGWeir) 2016年6月3日
The doll Yumi sent is introduced in "The things I need for travel". This is Johnny Weir's beloved dog, Chuma. Yumi gave it to Weir while he was in Japan for an ice show. The dog has on a Hermes collar!
Yumi enjoys taking her plentiful pets on walks.
This is Kakuda-shi, Akita prefecture. It is a collaboration with the Akita. This is Yumi's wool team leader, Yamada. The headdress is really lovely. Yumi always posts pictures while on walks.
The dogs with autumn leaves.
We all went to the shrine. Yamada is releasing a different sense of presence.
You go to many places each season. How do you choose your destinations?
 I really like traveling to places with flowers, shrines, temples, and sweets. I usually want to travel to the places that people would want to see me at. Also, if I am permitted to take the pets, I will go to that place.
If you look on Instagram, you will see a lot of beautiful places. Yo ucan use the photos as a guide for sweets and fine food.
This is the Republic Temple of Kamakura.
The pets also experience wonderful things. Ms. Chocolate Mama wrote about the fascinations of the pets in her column.
I met Ms. Chocolate Mama by being the first to like and comment on her Instagram. I was charmed by how lovely and wise Ms. Chocolate was while we talked back and forth, so I made her a small Miss. Chocolate pet as a present! At the time, I was still not very good at the craft, but I received a call from a crying [Ms. Chocolate] Mama telling me how these pets can really heal people ​(≧▽≦)​.
I really love that the pets are able to create encounters and emotions such as those.
It is really lovely to enjoy the changing of the seasons while going out with the pets. You used to yearn to be able to have a pet, but now, how about enjoying time on the "Air Pet Walk"?
(Visited 164 times, 1 visits today)